Rock'n'Roll Lessons
Lessons are loads of fun! The Hibiscus Coast Rock'n'Roll Club lessons cater for everyone! We have beginners, intermediate and advanced! We also teach triples!
Lessons take place every Tuesday night, from 7.00pm - 8.00pm at Whangaparaoa Citizens and Ratepayers Hall 707 Whangaparaoa Road, Whangaparaoa 0930. See the map.
Bookings are not required. Simply turn up on the night!
Beginner Lesson Price
Single
$25.00
Couple
$50.00
Full Time University Students
$20.00
Twenty Years and Under
$20.00
Children Under Fifteen Years
$10.00
Family Concession
$55.00
Note
These prices are inclusive of GST and may be subject to change.
Beginners lessons ONLY may be repeated at no extra charge for club members.
Family Concession consist of two adults and two children only.
To take the Advanced Lessons you must have completed a Beginners and Intermediate course at Hibiscus Coast Rock'n'Roll Club and be a current financial member.
Please wear comfortable clothes and low-heeled shoes. We do not dance in high-heels at any club events.
Come alone, or with a partner. Partners are an advantage but not necessarily required!
After your lesson, you are welcome and encouraged to stay and join us for a night of dancing! Social dancing follows lessons, starting at 8.00pm and finishing approximately at 10.30pm. Practise your lesson moves, new moves and meet new friends!
Door charges apply for social dancing:
$2.00 for members.
$5.00 for non-members.
No charge for those who have paid for lessons.
Lessons Calendar
Name Tag
Help us to get to know you! We encourage all people to wear a name tag at our lessons.
Enter your first name in the space below and then click the print button. Cut out your label and bring it along to the lesson. At the door ask for a name tag holder.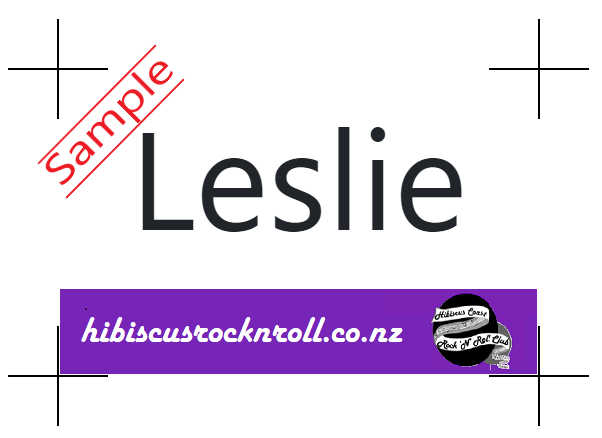 Further Information
For more information about our Rock'n'Roll lessons, please contact us.
Loading…
© 2008-2020 Hibiscus Coast Rock & Roll Club Incorporated, All Rights Reserved.