Rock'n'Roll Lessons
Lessons are loads of fun! The Hibiscus Coast Rock'n'Roll Club lessons cater for everyone! We have beginners, intermediate and advanced! We also teach triples!
Lessons take place every Tuesday night, from 7.00pm - 8.00pm at Whangaparāoa Citizens and Ratepayers Hall 717 Whangapāraoa Road, Whangaparāoa 0930. See the map.
Bookings are not required. Simply turn up on the night!
Beginner Lesson Price
Single
$25.00
Couple
$50.00
Full Time University Students
$20.00
Twenty Years and Under
$20.00
Children Under Fifteen Years
$10.00
Family Concession
$55.00
Note
These prices are inclusive of GST and may be subject to change.
Beginners lessons ONLY may be repeated at no extra charge for club members.
Family Concession consist of two adults and two children only.
To take the Advanced Lessons you must have completed a Beginners and Intermediate course at Hibiscus Coast Rock'n'Roll Club and be a current financial member.
Please wear comfortable clothes and low-heeled shoes. We do not dance in high-heels at any club events.
Come alone, or with a partner. Partners are an advantage but not necessarily required!
After your lesson, you are welcome and encouraged to stay and join us for a night of dancing! Social dancing follows lessons, starting at 8.00pm and finishing approximately at 10.30pm. Practise your lesson moves, new moves and meet new friends!
Door charges apply for social dancing:
$2.00 for members.
$5.00 for non-members.
No charge for those who have paid for lessons.
Lessons Calendar
Improver Lessons
Lesson #1
5th July 2022
7:00PM - 8:00PM
Lesson #2
12th July 2022
7:00PM - 8:00PM
Lesson #3
19th July 2022
7:00PM - 8:00PM
Lesson #4
26th July 2022
7:00PM - 8:00PM
FAQ
Are there any rules about social distancing and masks at beginner lessons?
There are no social distancing regulations for clubs at orange level. We leave it up to the individual to decide if they wear masks or not, but no one chooses to at dancing. Because we are exercising we cannot breathe effectively in masks.
Is there any age limits on who can learn?
There are no age limits. We have taught from 6 years to 90. All learning at their own pace.
Do you need a partner?
We often have a few more ladies than men, as many dancing clubs find. We get around this by having many ladies capable of doing the man's part plus a lot of willing male (and female) helpers who come along to assist in the lessons.
Do you swap partners during lessons?
We tend to assign you a partner for the lesson if you don't come with your own. Each lesson you may tee up that same partner again or go with the lottery of a partner being assigned to you. You may ask for someone else if you do not get along for personal reasons. Sometimes at the end of a lesson we may do dances that you can swap partners (polonaise). These are highly recommended but optional to be involved in. The ability to find how an experienced partner leads is an invaluable lesson.
What should I wear?
Comfortable clothes are recommended. As long as it is appropriate to family viewing, you can lift your arms, and is tidy of appearance. Shoes; it is advised they can slide on the floor. Ladies especially do spins and turns and sticky running shoes end up hurting knee and ankle joints. Jandals and sandals are not recommended and high heels shoes prohibited. These do damage to the floor and other people's feet if they come in contact.
Do you have water available?
Yes, we have a filtered water machine with disposable cups or you may fill drink bottles from.
Name Tag
Help us to get to know you! We encourage all people to wear a name tag at our lessons.
Enter your first name in the space below and then click the print button. Cut out your label and bring it along to the lesson. At the door ask for a name tag holder.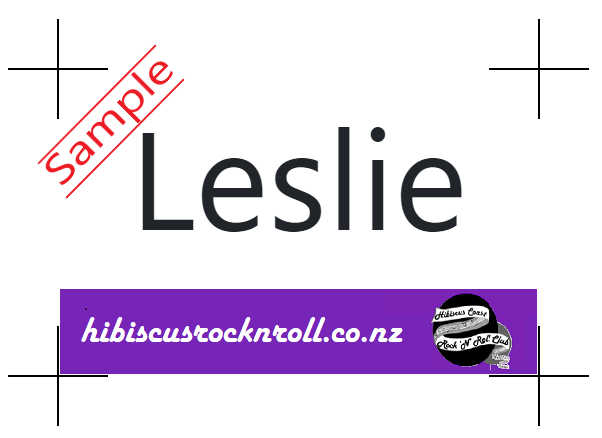 Further Information
For more information about our Rock'n'Roll lessons, please contact us.
Loading…
© 2008-2022 Hibiscus Coast Rock & Roll Club Incorporated, All Rights Reserved.